Greater Midwest Foodways Alliance
FAMILY HEIRLOOM RECIPES
Picnics and Family Reunions
Minnesota State Fair
August 17, 2014
Third Prize Winner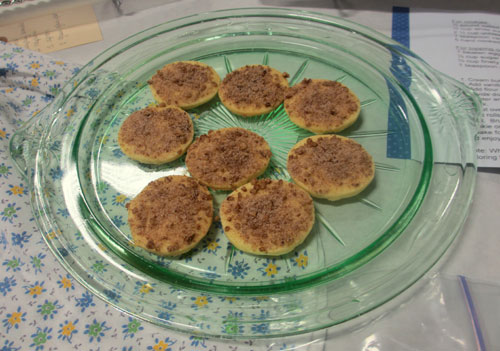 (Image by Catherine Lambrecht)
Third Prize:
Grandma's Egg Cookies
Marceil Ann Luedtke, Roseville, Minnesota
This past winter I was working on researching my geneaology.  I didn't know much about my mother's side of the family.  I learned the following:
My Great Grandmother – Alice Marceil Wolf
Born in 1889 in New York to parents from Germany.  LIved for a time in Michigan and then in Wisconsin and married Walter Frank Hauser.  They had three children – Walter Hauser, Henrietta (Etta) Huaser and Marceil Lucille Hauser.
My Grandmother – Marceil Lucille Hauser born in 1917 and married Emil Kufahl.  They lived in Wisconsin.  Had one daughter, Karen Marceil Kufahl.
My Mother – Karen Marceil Kufahl was born in 1939 and married Anthony Juckem.  They lived in Wisconsin and had two children, David Anthony Juckem and Marceil Ann Juckem.
Myself – Marceil Ann Luedtke born in 1962 and lives in Rosevill, Minnesota.
I asked my mother about Great Grandma Alice. This is the story she sent me along with this recipe she thought I would like:
"This is the cookie that has been a family recipe for a long time.  My Grandmother Alice and my mother always made them at Christmas.  I did also a couple of times.  This recipe was given to me when Dad and I stayed to see my cousin Carol.  I had lost the recipe and she copied another.  She (Carol) is the dauther of my Aunt Etta and looked and acted just like Grandma.  That was the last time that I seen her.  She also gave me the bisque doll she had made. I'm guessing this was 30 years ago."  Love, Mom
This recipe dates back to about 1909 and it is believed Great Grandma Alice learned it from her mother.  The recipe has traveled from Germany, to New York, to Michigan, to Wisconsin to Minnesota and has gone through the hands of five generations.
Displayed here are cookies from the Great Grandma's recipe, an aprom my Grandma wore (possibly when she made this very recipe!), the recipe card my Great Aunt Etta wrote, the story my mother wrote and the a depression era plate – a gift my mother gave to me.
Third Prize:
Grandma's Egg Cookies
Marceil Ann Luedtke, Roseville, Minnesota
For cookies:
1/2 pound salted butter
1/2 cup white sugar
2 1/2 cup unbleached flour
1 teaspoon vanilla extract
5 hard cooked egg yolks sieved
For topping on cookies:
1 beaten egg white
1/4 cup sugar
1/4 cup finely ground pecans
1 teaspoon ground cinnamon
1. Cream butter and sugar.
2. Add vanilla and egg yolks and mix well.
3. Add flour and mix well.
4. Divide dough into 3 equal parts. Shape each part into a roll 1-1/2 inches in diameter and wrap in wax paper. Refrigerate at least 4 hours, but no longer than a week.
5. Heat oven to 325 degrees.
6. Cut rolls into 1/8-inch slices. Place about 1 inch apart on ungreased cookie sheet. Brush tops with beaten egg white. Mix sugar, pecans and cinnamon and sprinkle on top.
7. Bake for 8-10 minutes until brown very lightly around edges. Cool on wire rack and enjoy!
Note: When made for Christmas the dough was often colored red with food coloring for the special holiday.