Global Kitchen:
Food, Nature, Culture
June 1, 2017
Milwaukee Public Museum
Greater Midwest Foodways Alliance's Annual Tea Party
Highland Park Community House
Sunday, February 19, 2017
American Cake
Anne Byrn, author
December 10, 2016
Kendall College, School of Culinary Arts
Heirloom Recipe Competition 2016
at these State Fairs:
Indiana: August 11 at 3:00 pm – Live judging!
Illinois: Histories and recipes!
Missouri: Histories and recipes!
Minnesota: Closed Judging, sorry!
Kansas: September 11 at 1:00 pm – Live Judging!
Taste of Chicago
with WBEZ's Tony Sarabia
July 8, 2016

A list of food offerings to check out
Author Appearance Opportunity
Saturday June 11 and Sunday June 12, 2016
The Food.  The Drinks. The Culture.
Eat. Drink. Listen. Learn. Eat. Drink.
April 8-9, 2016
Racine, Wisconsin
Saturday's program at the Rondelle is sold-out, though we encourage you to waitlist by calling 262-260-2154. If anyone needs to cancel their seat, please call this number.
There is seating left for the Hob Nob dinner and Friday Fish Fry.
Information and Reservations for:
at Colony House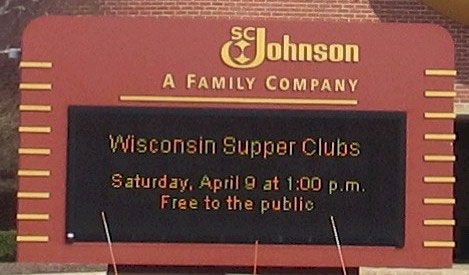 Program and Documentary at the SC Johnson Golden Rondelle
Free, though reservations are a must!
No sales allowed at the Rondelle, you may order in advance for pick up
at the HobNob Supper Club
Greater Midwest Foodways Alliance's Annual Tea Party
February 28, 2016
Highland Park, Illinois
Heirloom Recipe Competition, 2015
Family Favorites Never Served to Guests (or whatever you like)
Illinois, Indiana, Iowa, Minnesota, Missouri, South Dakota
A Frank Lloyd Wright Designed Farm Home
4:00 pm
Optional though encouraged: DeKalb Barn Tour
9:00 am until 4:00 pm – estimated 4.5 hours for full tour
August 8, 2015
How Corn Changed Itself and then
By: Cynthia Clampitt
Saturday, March 7th, 2015 at 10 AM
Kendall College School of Culinary Arts

The Impact of American Indian Boarding School Education on
Great Lakes Indigenous Foodways:
A Case Study of the Lac du Flambeau Reservation
By: Amelia V. Katanski
$3000 Recipient of an
American Midwest Foodways Scholar's Grant
January 31, 2015 at Kendall College School of Culinary Arts
Greater Midwest Foodways Alliance's Tea Party
Saleswoman.  Cosmetics Queen.  Millionaire.
February 8, 2015
Learning Tour
Cookbooks as Ingredients to Shape Identity and Community
Danielle Spalenka, Curator
November 15, 2014
Regional History Center – Northern Illinois University
DeKalb, IL
Judging Family Heirloom Recipes at Midwestern State Fairs
Presented by Catherine Lambrecht
Recorded live September 27, 2014 at
Kendall College School for Culinary Art
Heirloom Recipe Competition, 2014
Picnics and Family Reunion Celebrations
Illinois, Indiana, Iowa, Minnesota, Missouri,

Learning Tour!
PENNSYLVANIA DUTCH FOODS AND
FOODWAYS IN THE MIDWEST
The 55th Annual Illinois Mennonite Relief Sale and
Anabaptist Culinary Traditions
March 15-16, 2013  (Podcasts)
Greater Midwest Foodways Alliance's Tea Party
Below Stairs: A Servants Life in Early 20th Century England
February 10, 2013
Road Food: Exploring the Midwest
One Bite at a Time
Kendall College, School of Culinary Arts, Chicago, Illinois
April 27, 28 & 29, 2012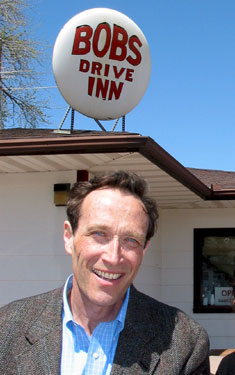 Keynote speaker Michael Stern of RoadFood.com on, "Will Success Spoil Regional Food?"
Sunday Breakfast at Lou Mitchell's
Feast: Radical Hospitality in Contemporary Art
Road Trip!
From Bloomington to Lincoln, IL
Saturday, June 18, 2011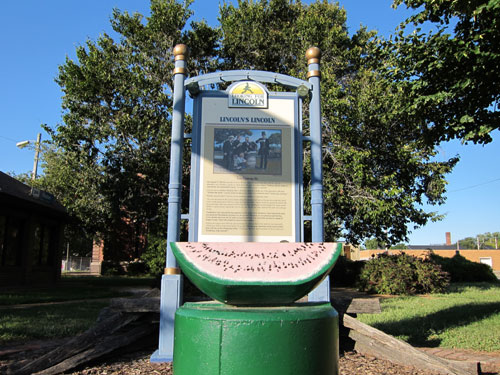 Watermelon Statue in Lincoln, IL (image by Peter Engler)
Come and Get It!  The way we ate, 1830-1980
By Julianne Glatz, Illinois Times, June 9, 2011
Everywhere you go is an adventure, if you keep your mind wide open and look.  This day trip to Central Illinois will reveal character, history and ingenuity in the flat lands.  More information is available here.
Midwest Eats!
Foodways of the Great Depression
Alas this event is now history.  Fortunately our partners at Chicago Public Radio's Chicago Amplified have recorded every presentation at this symposium as well as Maxwell Street's history.  These will be uploaded and available soon.  While this information is not lost to the ages, by not attending you never had a chance to ask a question or taste all the delicious food.  Perhaps next time?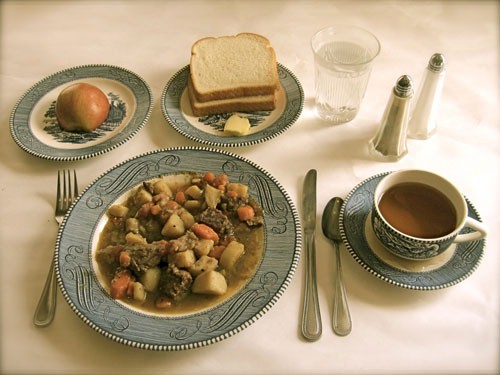 8-cent Menu at Relief Dinner circa 1938 (Image by Peter Engler)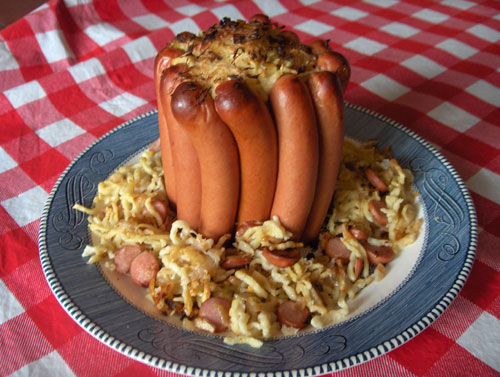 Crown of Frankfurters (image by Catherine Lambrecht) Recipe and assembly instructions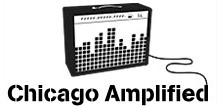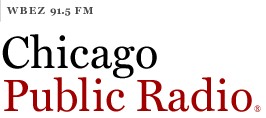 Chicago Public Radio's Chicago Amplified has recorded symposium hosted by the Greater Midwest Foodways Alliance.   These presentations are uploaded and available to listen to
Midwest Eats!  The Foodways of the Great Depression
If you would like to be on our e-mail list for news, events and future competitions, send an e-mail to: [email protected]